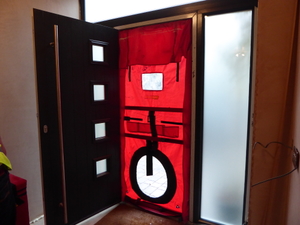 Why Air Test?
With the increased use of high performance insulations, highly efficient boilers and renewable technologies, it is important to make sure that the building keeps the heat that is generated and not allow it to be lost, let alone allow cold air to leak back into the building. By ensuring that the dwelling is built soundly, along with paying attention to all finishing measures to ensure good levels of air tightness, it will mean a much more energy efficient and comfortable home for its occupants.
The Technical Bit
Air tightness is measured in air permeability by:
m³/(h.m²) at 50 Pa
In simple terms, this means the quantity of air, measured in m³, that is lost from the dwelling every hour, divided by the internal area (measured by m²) of the building fabric at a pressure of 50 Pascals. Therefore, a dwelling that reaches a score of 8.00 m³/(h.m²) at 50 Pa will demonstrate a better standard of air tightness than that of a dwelling with a score of 10.00 m³/(h.m²) at 50 Pa. Simply, the lower the score the better the result for the dwelling's CO2 emission rate. As the level of air tightness increases, the energy demand of the building reduces for both heating and cooling. At lower levels of air tightness, attention must be paid to the ventilation methods in order to avoid over-heating and lower the risk of mould.
Where do the Building Regulations come in?
Approved Document L1A of the Building Regulations (England and Wales) 2013 currently sets the limit at 10 m³/(h.m²) and requires the following regime, which also applies to dwellings constructed under Part L1a 2010:
On each development, an air pressure test should be carried out on three units of each dwelling type or 50 per cent of all instances of that dwelling, whichever is the less. The dwellings to be tested should be taken from the first completed batch of units of each dwelling type.
The actual result of the air pressure test is used within the SAP calculation to validate that the pace of CO2 emissions from that dwelling is equal to or less than the target score needed to comply with Building Regulations. In those dwellings not tested, 2 points are added to the average of the scores from the tested dwellings and, providing the As Built SAP calculations still pass Part L1a and the average + 2 result is less than 10, Building Control should be happy.
All seems very complicated, doesn't it? Don't worry, we're experts on air testing and its impact on SAP calculations, so we'll guide you through the process and make sure you're doing everything to achieve completion on your build. Contact us on info@awardenergy.co.uk or 01423 506070 and we can talk you through the process.