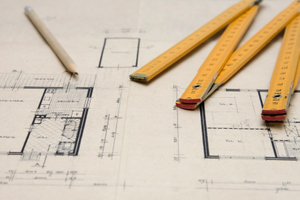 What are SAP Calculations?
Everyone hates paperwork, but unfortunately, SAP Calculations are here to stay. At Award Energy, we love to use our expertise to make things easy for you, so you can get it right from the start. More importantly, we translate what might be seen as a necessary evil into a tool that can save on build costs by helping you achieve a cost-effective yet compliant thermal specification.
SAP Calculations are a requirement of Part L of the Building Regulations, and are needed for all newly built and converted dwellings. A SAP Rating is a way of measuring the heat loss of a dwelling and comparing energy performance of different homes; it results in a figure between 1 and 100+ (100 representing zero energy cost and anything over means you are exporting energy). The higher the SAP rating, the lower the fuel costs and the lower the associated emissions of carbon dioxide. The SAP Calculations establish an energy cost based on the construction of the home, its heating system, internal lighting and any renewable technologies installed. It does not include energy used for cooking or appliances.
SAP stands for 'Standard Assessment Procedure'. It is the only official, government approved system for assessing the energy rating of a new or converted home. SAP assessors must be accredited and registered with a certification body; we are members of Elmhurst Energy.
What do SAP calculations mean for me?
In order to meet current Building Regulations, house builders need to establish a 'pass' on their SAP Calculations. Without it, Building Control will not sign off the development and the property cannot be let or have a mortgage raised on it for purchase.
But there are other reasons to care about SAP. A good SAP assessor can work with the builder and architect to minimise its energy use and carbon emissions.  A great SAP Assessor can do all of this AND save money on the build cost!
Are SAPs Just for New Builds?
No. Many extensions, conversions and change of use projects will require Heat Loss calculations via SAP software under Part L1b of the Building Regs:
Extensions with more than 25% glazing:floor area
Barn conversions
Commercial to domestic conversions
Conversion of a single dwelling into flats or apartments.
What's Involved in doing the SAP Calculations?
Your SAP Assessor will work from architects drawings and construction information, together with a full heating and ventilation specification. Drawings need to be scaled, accurate and show all elevations, sections, floor and site plans; Autocad is our preferred software, although we are more than happy to work with paper plans. Just send them to info@awardenergy.co.uk or our offices at 8 Princes Square, Harrogate, HG1 1LX and we'll take it from there.

Once complete, a SAP calculation is capable of producing detailed reports, including the all-important Building Regulations Compliance paperwork.
Stage 1 - the 'Design' stage
SAPs must be calculated and submitted to the relevant Building Control Officer (BCO) or your Approved Inspector (AI) at the point when you make your Building Control Application.
Predictive Energy Assessments (PEAs) can be issued at this stage in case you want to market the property prior to completion
Stage 2 - the 'As-built' stage
Produced when the build is completed. Compliance documentation that shows a "pass" must be produced for presentation to your BCO or AI. Any changes that were made to the build specification must be incorporated in the "As Built" assessment and the results from your Air Testing regime entered into the calculations. Your final EPC will be based on the information confirmed at this stage.
When to get us involved
The key point is to start thinking about SAPs early.
If we receive a set of plans half way through a build, there's not a lot we can do to change the energy performance of that building. This scenario can also lead to the installation of unsuitable and expensive technologies added in hindsight just to pass building regs or to meet a planning condition.
Avoid this by bringing in the SAP assessor as early in the process as possible. This could be well before planning has even been submitted, and certainly well before building regs applications. We're always happy to talk about your new projects, so call us on 01423 506070.
The Numbers to focus on
The main emissions target is achieved using the DER/TER figures. CO2 emissions are measured by comparing a Target Emission Rate (TER) against the predicted Dwelling Emission Rate (DER). This target rate is set within SAP in reference to a notional dwelling of the same size and shape, using a set of baseline values.
These CO2 figures are now increasingly used by planners and councils to drive other objectives, such as meeting sustainability targets and local renewable energy policies. When producing these Energy Reports at the planning stage, these are often the figures that we use.
Fabric Energy Efficiency
Homes built after April 2014 in England are also assessed on Fabric Energy Efficiency. This is not a measure of carbon emissions, but of energy demand in units of kilowatt hours per m2 per year. How well a home retains the heat it produces will have an impact on its CO2 emissions as well as being assessed separately to gauge compliance.
Fabric Energy Efficiency is measured using DFEE/TFEE figures. As with carbon emissions, the target is set within SAP using a set of baseline values depending on the size of the property.