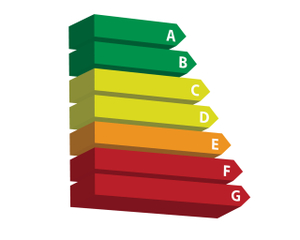 SBEM and Commercial EPCs
SBEM (Simplified Building Energy Model) is a calculation tool developed by the BRE and is applied to determine the energy rating of new and existing commercial buildings, including those created through a material change of use.
Since 2006, virtually all new commercial buildings and large extensions to commercial buildings have required the production of a building energy rating to show compliance with Part L2 of the Building Regulations. SBEM is the most widely used and recognised tool to provide this energy rating.
As with most of our services, getting Award Energy involved at the design stage helps to iron out any potential problems with specification and ensure compliance with Part L2. Design BRUKL documentation can be issued before construction starts, demonstrating that the proposed construction specification meets the Building Regulations requirements.  The As Built BRUKL and Energy Performance Certificate are then issued at completion.
Commercial EPCs
Existing commercial buildings for sale or let, including lease renewals, require a current Energy Performance Certificate. In addition, applications for the Renewable Heat Incentive (RHI) for biomass boilers, solar panels etc also require an Energy Performance Certificate. These EPCs require a site visit by a qualified assessor and Award Energy can organise this for you. Just send a copy of the building plans to info@awardenergy.co.uk or let us know the address on 01423 506070 and we will let you have pricing and availability information.